Before I start, I have to admit that I was/am a little hesitant about posting this build here due to the fact that:
1) you are all leaps and bounds ahead of me as far as experience, marksmanship, quality of guns owned, etc, etc...
2) I am NO machinist by any means, and because of that my build is shall we say...somewhat juvenile in its' execution?
3) I don't want to be the one responsible for lowering the quality of showpieces found on this fine forum...
Now having said that, my tinkerin' urges got the better of me and I decided to transform my Co2 powered 2250 into a 1750 PCP pistol using a Disco valve, fill adapter and gauge that I purchased from Eric at ScopesAndAmmo. I wanted a gauge installed so I knew when to refill BEFORE accuracy went south, so the first hurdle to pass was where to mount the gauge...but where ?. With the 2250 tube being such a small reservoir for air, using a Disco or P-rod gauge block was out of the question - just simply not enough room. I could have just removed the fill nipple, installed a "street T", then re-install nipple (straight out) and gauge (pointing down). This would have been the easiest way, but I wanted something a little cleaner looking - not look like a plumbing job...
So after looking at the fill adapter and gauge for awhile, I came up with this solution: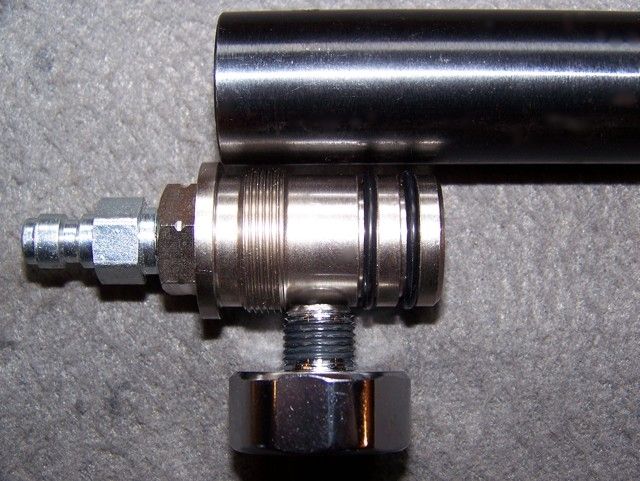 I managed to drill/tap the fill adapter 1/8"NPT without messing up the o-ring grooves OR the threads on adapter. It's a tight fit, but doable... . I'll admit I was unsure as to how much material there was in fitting to ensure enough threads for a safe, leak-proof connection, but as it turns out there was plenty - enough for 5 full threads...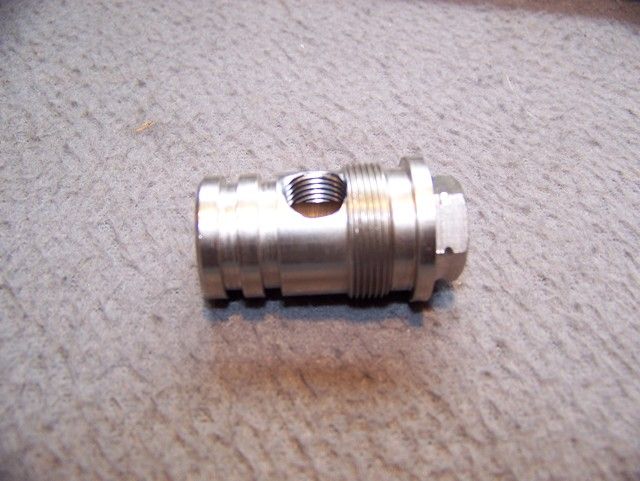 De-burred the rough edges on both adapter and tube, did some touch up bluing on tube once all the shrapnel was cleaned out/washed down, then lubed the o-rings with some silicone grease, put them in there respective places and reassembled gun. Grabbed my Hill pump and pumped it to 2000 psi (a whole 24 strokes! ), checked for leaks (none) and left it to sit overnight. Got up the next morning half expecting the gauge to be on "zero", but lo-and-behold it was good! I did notice however, that when gauge on Hill pump was at 2000 psi, the Disco gauge only read about 1850-1900 psi (+/-). I still have some trimming to do on forearm to even up the gap some and smooth it out, but at least the gauge is staying put: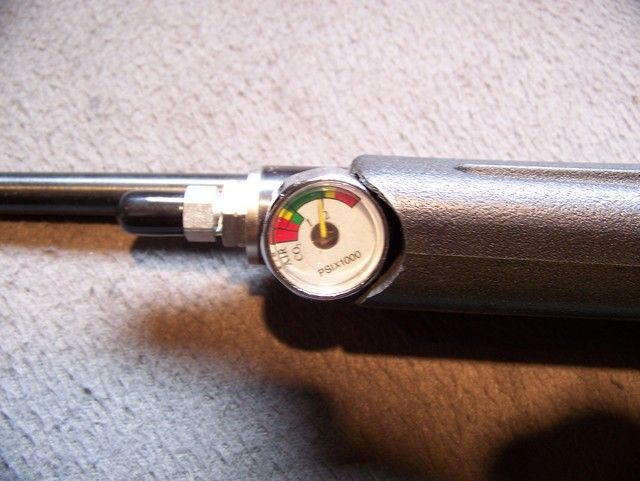 Before I go, here is a pic of the gun in its current form: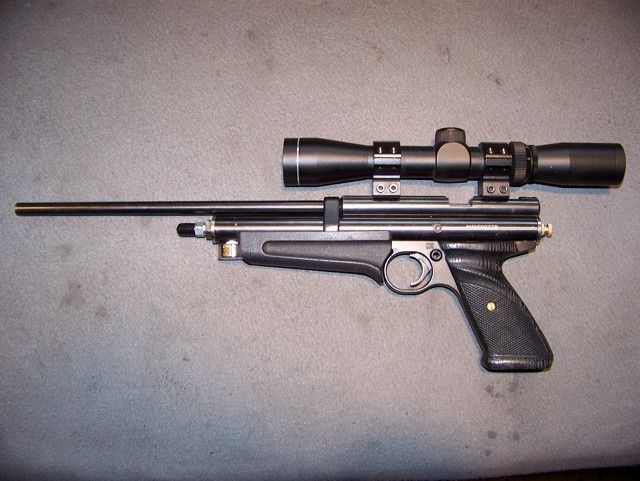 LOL...before everyone asks, "Why did you put the barrel band there?" there was a method to my madness. When I switched the gun to .177 a while back using a 14" Crosman barrel, I added 2 more barrel set screws to the breech and free-floated the barrel. My groups tightened up a bit (plus I liked the look) so I left it. Well, when I tore it down the other night I noticed a bit of flex happening at the front of the breech. Breech screws were tight, but with very little force applied to barrel the front of breech would "separate" from the tube. Very little mind you, but movement nonetheless, so this was my quick fix. With the band tight to the breech I basically have an extra long breech with 3 attachment points - no more movement and still free floating!
Hope I didn't bore you all with the long-winded post!
Thanks for looking,
Todd