Transferring some posts that contain good info over to this forum.
TAU 7 Pistol Field Target Set-up
In Canada, with our under 500 fps rule in Pistol Field Target, there are a great many pistol choices. I had been using my .177 caliber Tau 7 for 10M matches, but ever since I purchased the Alfa Project PCP pistol, the Tau has not seen a lot of use. With its ergonomics and adjustable power, I thought I would give it a try as a pistol field target (PFT) rig.
Because of our velocity restriction, I figured I might as well use a heavy pellet with a high ballistic coefficient, so the natural choice was the JSB heavy pellet at 10.3 grains. I adjusted the power of the pistol to shoot at 495fps and this pistol only has a spread of about five feet per second, so I would stay safely under 500fps.
With the velocity set, I chose the Leaper Compact Swat scope with magnification of 3 to 12X, since the maximum magnification allowed is 12X. I had a set of heavy-duty, Weaver based tactical rings and I decided to use one of them to mount the scope. I picked up a mount from Eric at Scopes and Ammo and it worked very well. While I was at a match in Michigan, I saw a shooter that had his scope canted at 90 degrees; I liked the idea and gave that a try. The 90 degrees was too much for me and I found it difficult to support the gun properly, so I kept moving it up straighter and stopped at an angle that allowed me to open the loading gate fully without hitting the scope. I have not measured it, but it looks to be at about a 40-degree angle away from vertical.
Since the gun was set up to shoot vertical, the compensator was rotated to be vertical when the scope was vertical. The gun, mount and scope weighs in at four pounds, two ounces and feels just about right to me.
I decided, through some trial and error, that I would shoot it from a sitting position, over my left arm that would be resting on my left knee. I can bring my left hand around and grasp my right wrist to stabilize the hold. I also rest my right elbow on my right knee to complete a fairly solid position. The canted angle of the pistol allows for a very relaxed grip on the gun with my right hand. With my left hand across the back of my right hand and holding the wrist, it ties everything together.
The center scope height above the center of the bore is 2.08" and the range of the pellet height from 10 yards to 25 yards is just a bit over a half inch. I hold dead on at 11 and 25 yards and just under a half inch low at 18 yards. Since the hardest shots are those at or close to 25 yards, I felt that being able to hold dead center or close to it would help me with these tough shots.
Now all I have to do is shoot it in a match this way to see if the set up pays off. I have been able to shoot it at between nine and ten yards indoors and set the zero as close as I can, but should be able to get outdoors tomorrow and set it with a 25 yard zero. If I get time to shoot a group tomorrow from the sitting FT position, I will post a picture of the target. After the Sunday match, I'll report back on how well my plan worked out. Of course, the weak link, being me, will be there Sunday so who knows.
Well, the pistol shot extremely well and hit where it was aiming all match long. Three times I was not aiming in the right place and once I made a great shot on the wrong target, loosing two points in the process. So I ended up five points down and just two points behind first place guys. Would have been nice if I would not have shot the wrong target. I have never done that before and hopefully will not do it again. As always, the weak link was me. There is always next time, right?
So the Tau 7 is definitely one of the many good choices you can make for a PFT gun here in Canada.
Tim
These pics show what I have been talking about.
Lt Side
Rt Side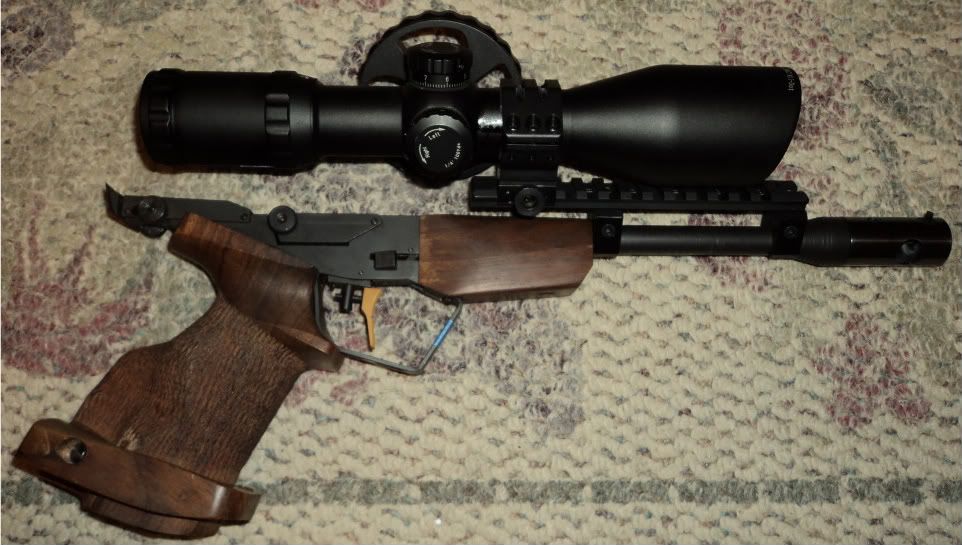 Front front to see the canted position of the scope
Straight on from front to show angle